Honors Band Festival
UIC 10th Annual Honors Band Festival: Nov. 4-6, 2022
Congratulations to all nominees!
1. Download Festival Information for Participants and Parents:
General Information Festival Itinerary Dining Options
2. Download and Complete Forms for Students and Parents:
Medical Release Participation Waiver Photo Consent
3. Prepare your Audition Excerpts
Flute – Clarinet – Bass Clarinet – Oboe – Bassoon
Saxophones – Horn – Trumpet
Trombone – Euphonium – Baritone TC
Tuba – String Bass – Percussion
About: High school musicians from across the region are invited to collaborate and interact in a professional setting under the direction of UIC faculty and a special guest conductor.
The festival encourages students to individually grow as musicians and strengthen their high school ensembles. It features a performance from UIC Ensembles, a master class with UIC faculty, and a shared final concert with the UIC Wind Ensemble.
Festival Conductor: Ogechi Ukazu
Band Directors: Late nominations will be considered on an ongoing basis
Nominate Here: go.uic.edu/HBnominate
Parents: If you will be attending the festival with your student, we encourage you to take some time to see our campus and take advantage of everything Chicago has to offer during your stay.
Location: The festival will take place in the UIC School of Theatre and Music with the final performance at Student Center East.
School of Theatre and Music
1040 W Harrison St
Lower Level – Rehearsal Hall (L060)
Student Center East
750 S Halsted St
Illinois Room
COVID-19 POLICIES:
UIC requires facial coverings inside all performance settings. All performing and non-performing attendees are encouraged to be vaccinated for Covid-19. Anyone experiencing symptoms related to Covid-19 is requested to not attend the event.
Organizers will be collecting the name, email address, and phone number of all attendees in the event they are needed by contact tracers. All attendees will be asked health screening questions to ensure that no one ill is attending.
Tentative Festival Timeline:
Upon arrival to the festival, students will perform a placement audition. A sample weekend timeline is provided below.
Friday, November 4
3:30pm – 6:30pm: Placement Auditions
6:30pm – 7:15pm: Dinner Break
7:15pm – Seating Results Posted
7:30pm – 9:00pm: Rehearsal I

Saturday, November 5
9:00am – 10:00am: Sectionals
10:00am – 11:30am: Rehearsal II
11:30am – 12:30pm: UIC Faculty Masterclasses
12:30pm – 2:00pm: Lunch Break
2:00pm – 3:00pm: UIC Symphonic Band/Jazz Concert
3:00pm – 5:00pm: Rehearsal III
5:00pm – 6:30pm: Dinner Break
6:30pm – 8:30pm: Rehearsal IV

Sunday, November 6
10:00am: Honors Band Call Time
10:30am: 12:00pm: Rehearsal V
12:00pm: 1:30pm: Lunch Break
1:30pm: Concert Call Time
2:00pm: UIC 10th Annual Honors Band Festival Concert Begins, featuring the UIC Wind Ensemble and the UIC High School Honors Band
INSTRUMENTS WITH SPECIFIC NEEDS:
Flute: Bring a piccolo if you have access to one and want to be considered for piccolo parts. Piccolo assignments will be made under the leadership of the guest conductor.
Brass: Trumpet and trombone students should bring straight mutes. Other mutes may be requested.
Percussion: Bring a pair of general-purpose snare sticks, keyboard mallets, and timpani mallets.
2022 Guest Conductor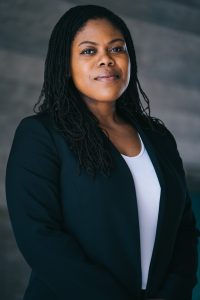 Ogechi Ukazu is a doctoral candidate in wind conducting at the University of Texas at Austin where she also serves as an Assistant Instructor for the UT band program. Prior to this appointment, she acted as Visiting Instructor of Instrumental Music at the University of Mary Hardin-Baylor in Belton, Texas. Ms. Ukazu holds a Bachelor's Degree in Music Education from the University of Houston and Master's Degree in Conducting from Sam Houston State University. She began her career in Spring ISD where, in 2011, the Claughton Middle School Symphonic Band performed at the Midwest International Band & Orchestra Clinic.
Ms. Ukazu is an avid proponent of quality music education for all students and has presented on music education advocacy at workshops, clinics, and conventions around the state of Texas and country, including the SHSU Teaching in the Middle School Band workshops, the Texas Bandmasters Association Convention, the Southern Methodist University Art of Teaching Music workshop, and the Conn-Selmer Summer Institute.
In addition to her work as a music educator, advocator, and presenter, Ms. Ukazu works as a consultant and analyst for Deutser, LLC, a management consulting firm in Houston, TX that specializes in corporate & organizational leadership training, organizational change management, risk management, strategic planning and branding design & architecture. Amongst the client projects she has worked on are the Greater Houston Community Foundation, Houston Community College System, PHI Health, United Way of Greater Houston, and the University of Arizona.
Ms. Ukazu's professional affiliations include College Band Directors National Association, Texas Music Educators Association, Texas Bandmasters Association, Sigma Alpha Iota International Music Fraternity, Tau Beta Sigma, and honorary membership in Kappa Kappa Psi.
Dr. Jonathan M. Villela is currently one of two Americans to hold the Luce Fellowship & Research Position in the Performing Arts awarded by the Henry Luce Foundation. During this year he will work with professional, university, and secondary wind bands across Asia. Dr. Villela was also a 2021 finalist in the American Prize: in Conducting-University Band/Wind Ensemble Division.
A graduate of The University of Texas, Dr. Villela worked with concert ensembles, undergraduate conducting instruction, graduate wind literature, and the Longhorn Band. At The University of Texas, Dr. Villela was named recipient of the Richard E. Rainwater Grant for Innovation, the Austin Cultural Arts Initiative, and the Texas Music Educators Graduate Scholarship. As a community activist, Villela served as an appointed council member of the Texas Civic Impact Council where he contributed to solutions for community growth and developed recovery response strategies for COVID-19.
He holds a Bachelor's in Music Education from the Greenwood School of Music at Oklahoma State University. Subsequently, Villela taught at Four Points Middle School (Leander ISD) where he conducted the group at the 69th Midwest Clinic and was a presenter in the following year. As a guest conductor of Cedar Park Winds, Dr. Villela led the ensemble's submission to the international conference, thus yielding the group's invitation and performance at the 71st Midwest Clinic where they premiered Donald Grantham's Effulgent Light. Villela served as a guest conductor of the Dallas Winds and was featured on the ensemble's Mozart vs. Varèse.
In the fall of 2021, Dr. Villela was appointed Visiting Assistant Professor at the University of Illinois Chicago, where he will complete a two-week residency each semester, guest lecturing on a variety of topics including performance, careers, conducting and serve as the Festival Conductor of the 9th Annual Honors Band Festival.
Dr. Linda R. Moorhouse currently serves as Associate Director of the School of Music at the University of Illinois Urbana Champaign. She also holds an appointment in the Bands Division as Senior Associate Director and is a member of the conducting faculty. Prior to her current position, she served as Interim Director of Bands at the University of Illinois and taught graduate and undergraduate conducting, and wind band history.
Before joining the University of Illinois School of Music in fall 2010, Dr. Moorhouse served on the faculty at Louisiana State University for over 20 years, where she was the recipient of LSU School of Music and several campus-wide awards for teaching excellence. While at LSU, she taught conducting, directed the LSU Symphonic Winds, and served as drill designer, auxiliary choreographer, co-director and teacher of record of the LSU Tiger Marching Band, one of a select few award-winning college marching bands in Division I universities. Under her leadership, the LSU Tiger Band received the Sudler Trophy (the "Heisman trophy" of college marching bands), and won the 2008 ESPN "Battle of the Bands" contest. She also served as director and administrator of the LSU Summer Music Camps.
2018 Dr. Verena Mösenbichler-Bryant
2018  Dr. Verena Mösenbichler-Bryant serves as Associate Professor of the Practice of Music, Director of the Duke University Wind Symphony, and Director of Undergraduate Studies for the Music Department. She also conducts the Durham Medical Orchestra. Verena grew up in Eberschwang, Austria. She began piano lessons at the age of 6, continuing later with church organ, flute, and bassoon. Her conducting debut at age 16 was followed by a three-year fundamental conducting course taught by Johann Mösenbichler. Verena Mösenbichler-Bryant then studied conducting for symphony orchestra with Ingo Ingensand at the Anton Bruckner Private University in Linz, Upper Austria, and received her bachelor degree, with distinction, in 2005. She completed her Master of Music in 2007 with Kevin Sedatole at Michigan State University. Verena graduated in May 2009 with her DMA in Wind Ensemble Conducting from The University of Texas at Austin where her principal conducting teacher was Jerry Junkin. Dr. Mösenbichler-Bryant serves as Executive Director of the annual international World Youth Wind Orchestra Project (WYWOP), and in 2017 the first World Adult Wind Orchestra Project (WAWOP) as part of the Mid-Europe festival in Schladming, Austria (www.mideurope.at.) Other professional engagements have included a position as Wind Ensemble conductor at the UNC School of the Arts, three years as the conductor of the Hofkirchen community band, and conducting the youth band of Eberschwang. Verena Mösenbichler-Bryant's transcription of John Corigliano's Grammy- winning work, Mr. Tambourine Man, for Wind Ensemble and Amplified Soprano, published by G. Schirmer, has received strong praise from the composer, and has received numerous performances since its 2009 premiere. She has also published an article in GIA's respected Teaching Music Through Performance in Band series. Verena serves frequently as a guest conductor and clinician across the United States, Japan, as well as in her native Austria.
2017  Dr. John Climer is Director of University Bands and Professor of Music at the University of Wisconsin-Milwaukee's Peck School of the Arts. At UW-Milwaukee, John oversees all aspects of the band program, guides the graduate wind conducting area, and serves as conductor of the Wind Ensemble, the University's premiere wind band. Before his appointment in Milwaukee, he served for fourteen years as Director of Bands at Ohio University, where he served as conductor of the Wind Ensemble and New Music Ensemble. As a guest conductor and clinician, Dr. Climer has led performances at festivals, universities, and concert venues nationally and internationally including the Midwest Band and Orchestra Clinic, the John F. Kennedy Center for the Performing Arts, the Eastman School of Music, and the Conservatorio di Musica in Salerno, Italy. Ensembles under his direction have performed for four conferences of the College Band Directors National Association (CBDNA), including the 2013 National Conference in Greensboro, North Carolina, the North Dakota Music Educators Association, the Ohio Music Educators Association (1996, 1999, 2002, 2005, 2008), the Wisconsin State Music Conference, and the Society of Composers Inc. In July of 2015, the University of Wisconsin-Milwaukee Wind Ensemble performed for the 16th International Conference of the World Association for Symphonic Bands and Ensembles (WASBE) in San Jose, CA.
An avid supporter of new music, Climer has participated in numerous commissioning projects culminating in works by composers Roberto Sierra, Chen Yi, Walter Mays, John Orfe, Robert Rodriguez, Andre Previn, Warren Benson and Akira Miyoshi. In addition, he has hosted numerous guest artist residencies with composers such as Joseph Schwantner, Michael Colgrass, John Mackey, Michael Markowski, Mark Camphouse, Jack Stamp, Aaron Perrine, and Mark Phillips.
John is the recipient of three university teaching awards including the Ohio University College of Fine Arts Outstanding Teacher Award, the Ohio University School of Music Distinguished Teaching Award, and the Outstanding Music Educator Alumni Award from the University of Akron. He is Past-President of the North Central Division of the College Band Directors National Association and the former Editor of the CBDNA Report. He is a contributing author for the Teaching Music Through Performance in Band series and his professional memberships include Phi Kappa Phi, Pi Kappa Lambda, Kappa Kappa Psi, Phi Beta Mu, the College Band Directors National Association, and the World Association for Symphonic Bands and Ensembles. His biography is published in the third edition of Who's Who Among America's Teachers.
Dr. Climer earned degrees from the University of Akron, the University of Cincinnati's College-Conservatory of Music, and the University of Missouri-Kansas City Conservatory of Music. He studied conducting with Gary W. Hill and Terence Milligan, and trombone with Edward Zadrozny, Tony Chipurn, and John Leisenring. He has held teaching appointments at Ohio University, the University of North Dakota, Ohio Northern University, and Emory University (Atlanta, GA) where he also served as the conductor of the Atlanta Youth Wind Symphony.
2016  Dr. Caroline Beatty is Director of Bands and Associate Professor of Music at Texas State University. Her responsibilities include providing administration and oversight of the university band program, conducting the Wind Symphony, and teaching conducting and band literature courses. During the 2014-2015 academic year, she also served as Interim Conductor of the Texas State Symphony Orchestra. Performances under her direction garner consistent accolades from audience members, composers, and fellow performers for their artistry, excitement, beauty, and craft. While honoring the standard repertoire, Dr. Beatty actively invests in the commissioning and performance of new works. Recent commissioning projects and premiere performances have included compositions by Robert Beaser, Carter Pann, Michael Ippolito, DJ Sparr, Margaret Brouwer, David Maslanka, Ryan Chase, and Andrew Rindfleisch.
Dr. Beatty maintains a vibrant conducting and teaching schedule outside of the university. She has been engaged as a conductor with the Austin Symphony, the Victoria Bach Festival, for various composers' recording projects, and for honor bands throughout the country. Her diverse teaching engagements have included serving as a conducting workshop clinician and providing presentations on a variety of educational and historical topics ranging from 19th century harmoniemusik, to music in American history, and conducting pedagogy. Additionally, she is a sought-after rehearsal clinician for high school and middle school bands.
Prior to her current position, Dr. Beatty held the position of Associate Director of Bands at Texas State University and Northwestern State University Louisiana. Her secondary school teaching experience includes thirteen years as a high school band director. She holds the Doctor of Musical Arts degree in Conducting from the University of Michigan and holds both a Master of Music degree in Instrumental Conducting and a Bachelor of Music degree in Music Education from The University of Texas at Austin. Dr. Beatty is a member of the College Band Directors National Association, Texas Music Educators Association, Texas Bandmasters Association, World Association of Symphonic Bands and Ensembles, and Phi Beta Mu.
2015  Brian Balmages is an active composer, conductor, producer, and performer. His wind, brass, and orchestral music is in high demand throughout the world and has been performed at conferences including the College Band Directors National and Regional Conferences, the Midwest Clinic, the International Tuba/Euphonium Conference, the International Trombone Festival, and the International Trumpet Guild Conference.
His work has been premiered by ensembles including the Baltimore Symphony Orchestra, the Miami Symphony Orchestra, the University of Miami Wind Ensemble, James Madison University's School of Music, Boston Brass, members of the United States Marine Band, and the Dominion Brass Ensemble.
Notable guest conducting appearances have included the Midwest Clinic, Western International Band Clinic, College Band Directors Eastern Regional Conference, Mid-Atlantic Wind Conductors Conference, the Atlantic Classical Orchestra Brass Ensemble, and an appearance at Meyerhoff Symphony Hall in Baltimore.
2014  Scott Stewart is on the Instrumental Music faculty at the Westminster Schools in Atlanta, Georgia. He served as the Director of Wind Studies at Emory University from 1999–2013, where he conducted the Emory Wind Ensemble and taught courses in conducting, wind band literature and history, and film music. He is currently the Music Director and Conductor of the Atlanta Youth Wind Symphony.
A native of Cicero, Indiana, Stewart holds a Bachelor of Music Education and Doctor of Music in Conducting from the Jacobs School of Music at Indiana University, and a Master of Music from the Butler School of Music at the University of Texas at Austin. Stewart's instructors include Ray Cramer, Stephen Pratt, David Woodley, Eugene Rousseau, Robert Duke, and Jerry Junkin.
A passionate advocate for new music and living composers, he has commissioned and recorded wind band/ensemble premieres, including music by Jennifer Higdon, Bruce Broughton, John Mackey, Stephen Paulus, Steven Bryant, Jonathan Newman, Libby Larsen, Carolyn Bremer, Kevin Kaska, Todd Stalter, Jim Bonney, Roger Cichy, Kevin Walcyzk, William Pitts, Jonathan Hoffmann, Peter Child, and others. In 2012, NAXOS released CD of Christmas music by the Emory Symphonic Winds ("In the World of Spirits") for wind band/ensemble on the "Wind Band Classics" label. He is an active guest conductor, teacher, clinician, author, speaker, and saxophonist.
2012–13  Thomas Dvorak is Emeritus Professor of Music/Director of Bands at the University of Wisconsin-Milwaukee, a position he held for 29 years, beginning in 1979, until his retirement in 2007. He is currently Music Director of Wind Ensembles for the Milwaukee Youth Symphony Orchestra, where he directs the various levels of wind ensemble performances and works extensively with their chamber music program.
He has appeared as guest conductor/guest lecturer in 29 states in the United States as well as the countries of Norway, Sweden, England, Ireland, France, Belgium, Austria, Germany, Czechoslovakia, Japan and Australia. In January of 1994, he became the first American College Conductor to conduct at the University of Launceston's summer Music School in Launceston, Tasmania; during that same period of time, he also served as the conducting teacher/mentor for the Conducting Symposium for the Australian Band and Orchestra Association Workshop held in Melbourne, Australia. Following his initial appearance in Australia, Professor Dvorak led the University of Wisconsin-Milwaukee Bands in 1996, on a concert tour of Australia, concluding with a performance for the Ninth Annual Conference of the Australian Band and Orchestra Association held in Melbourne. Following the Australian tour, he conducted a concert with his university wind ensemble/symphony band at Pearl Harbor, Hawaii.
Professor Dvorak began his teaching career public schools of Dodgeville and McFarland, Wisconsin. The McFarland Band Program, under his guidance, became a nationally recognized instrumental program with performances and clinics at two National MENC conferences (Milwaukee and Cincinnati, grand prize winner of the Red River Valley Festival in Winnipeg, Canada;, and for various performances at the Wisconsin Music Educator's Conference held annually in Madison, Wisconsin. In 1973, he was awarded a graduate fellowship for Doctoral Studies at the University of Wisconsin-Madison. In 1974, he joined the faculty at the University of Michigan Ann Arbor as an Assistant Professor of Music, where one of his primary responsibilities was the con- ducting and directorship of the University Youth Wind Ensemble. In 1978, he led the University of Michigan Youth Wind Ensemble in a performance at the Music Educator's National Conference in Chicago, IL. During the summer of 1978, and prior to his appointment as Director of Bands at the University of Wisconsin-Milwaukee, he was appointed conductor of the Summer Wind Ensemble and teacher of conducting at his Alma Mater, the University of Wisconsin-Madison.
Thomas Dvorak has received numerous awards during his career, including an "Outstanding Secondary Educator of America" award for his distinguished achievements with the McFarland High School Band Program. He has six times been presented the "Citation of Excellence" by the National Band Association for his contributions to bands. In the summer of 2010, he was invited by the National Band Association to serve as one of the Conducting Mentors for their annual symposium for Young Composers and Young Conductors held at Illinois State University in Bloomington, IL. His former students now hold prominent positions in our nation's middle and high schools, college and professional, youth orchestra positions and with the United States Army Band. His biography is listed in the International "Who's Who in Music" and in "Who's Who Among America's Teachers." He is also the author of many articles concerning repertoire,composers and conducting. He is the senior author of a repertoire series for school bands published by Manhattan Beach Music, New York, and is the co-editor/author of "Teaching Music through Performance in Beginning Band" published by GIA Publications, Chicago, IL.