Choral Festival
UIC 3rd Annual Choral Festival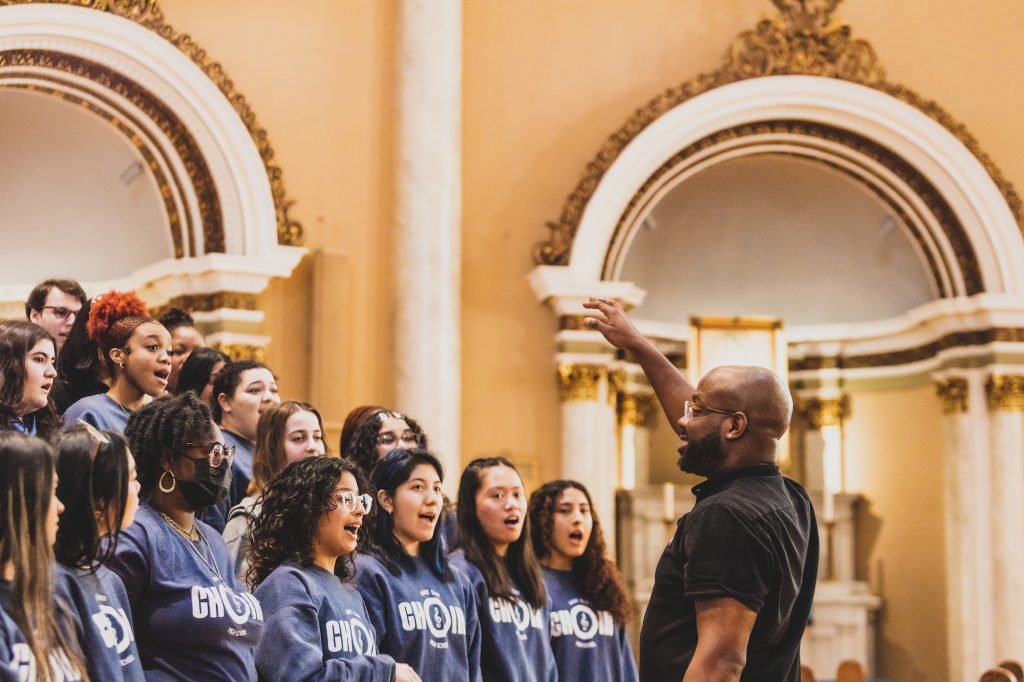 UIC will host the 3rd Annual Choral Festival on Friday, April 12 at UIC Student Center East (750 S Halsted St.)
High School Choirs are invited to participate in our annual Choral Festival, featuring guest artist Magdalena Delgado. The festival theme includes: Singing Together, Learning Together, Belonging Together with commissioned work by Rodrigo Cadet from Chicago A Cappella's ¡Cantaré! Chicago – an educational program designed to bring composers from Mexico directly into Chicago classrooms. The Choral Festival will culminate in an evening concert with the UIC Choirs and a performance by Tonos del Sur, an early music ensemble who will perform 18th-century villancicos from the Santiago Cathedral.
The festival is a featured event that will take place during the larger UIC Latin American Musical Festival from April 11-13, 2024. This will be a 2-3 day interdisciplinary festival featuring artists from UIC, as well as leading scholars, diplomats, and artists from the greater Hispanic communities throughout Chicago. The festival will take place at UIC, and some initial planning ideas include: mariachi festival, choral festival, block party/DJ, multi-stage performances, as well as unique concert and lecture events at nearby venues.
Register your choir TODAY!
All applications will be honored on a first-come, first-served basis and will be considered complete only upon receipt of payment. If you want to bring more than one group, please indicate on the form. Please register as early as possible so that we can honor your requests. We also encourage parents and members of school booster organizations to come and listen to ensemble performances. All are welcome!
For information on the Choral Festival please contact Director of Choral Activities, Liza Calisesi Maidens at liza@uic.edu
2024 Guest Artist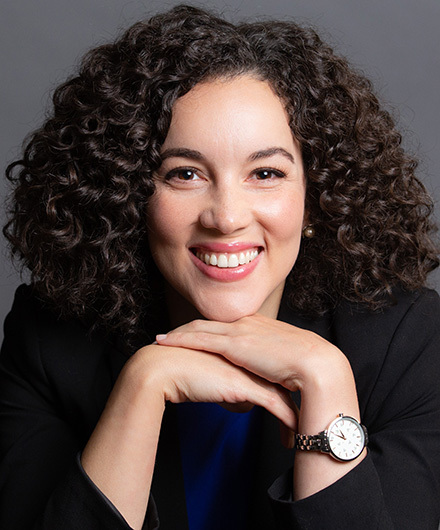 Choral conductor, singer and music educator from the Dominican Republic, Magdalena Delgado currently serves as the conductor of the Hyde Park Neighborhood Choir as well as an In-School Choir. Prior to her move to Chicago, Magdalena served as Artistic Director of the children and youth choir, Voces del Mar, based in Veracruz, Mexico, and was the Founder and Artistic Director of Audimus, a professional chamber ensemble based in Xalapa, Mexico. While in Mexico, she also worked as an adjunct faculty member on the choral and voice faculties of Instituto Superior de Música Esperanza Azteca and the Centro de Estudios de Jazz of the Universidad Veracruzana (JazzUV), where she taught voice and voice techniques classes, courses in choral literature and conducted the preparatory vocal jazz ensemble.
Past UIC Choral Festival Guest Artists:
2023 Guest Artist – Adrian Dunn
Adrian Dunn is an a critically acclaimed singer, composer, and conductor.  Mr. Dunn holds a Bachelor of  Music and Master of Music degree in Voice from The Music Conservatory at Roosevelt University  with additional musical studies in opera at The Sibelius Academy of Music in Finland.
His most recent composition and concert work Emancipation recently aired on PBS as a 1 hour special featuring The Adrian Dunn Singers & Dunn's Rize Orchestra. In 2022 he made his Ravinia Festival Chicago Symphony Orchestra composer debut with a choral commission of Going Home from the Dvorak New World Symphony conducted by Marin Alsop. He and The Adrian Dunn Singers performed the film score for the  2022 major motion picture, Honk for Jesus starring Sterling K. Brown (from the NBC hit show This Is Us) and  Regina Hall. In 2022 Mr. Dunn won The American Prize in Composition for Requiem from The Mass for  the  Unarmed  Child and was  named  in  the Top  10  Classical music &  Jazz  performances  of  2021  by  Chicago Tribune.  He made his composer and conducting debut with The Chicago Philharmonic Orchestra in June  2021. His interview on his original composition The Black Messiah was published in the Voices: A  World Forum for Music Therapy.
Mr. Dunn is writing his first full length opera: The 42 Project on  the life of Black Major League  Baseball star Jackie Robinson.  Mr. Dunn's trilogy cycle second installment Emancipation was recently released as an album featuring  The  Adrian  Dunn  Singers  and  Rize  Orchestra.  His composition Requiem was most recently performed by the Charlotte Symphony  Orchestra and the Morehouse Glee Club in March 2022.  He was also the chorus conductor for the  Mozart  Requiem  with  the  Elgin  Symphony  Orchestra  and  was  a  guest  artist  in  residence  at  California State University Fullerton.
Mr. Dunn is a MacArthur grant recipient for his original work Hopera: A Hip Hop Opera. He has  opened for international Hip Hop Recording Artist The Roots at Indiana University.  He served as  principle vocal  coach for  Kanye West's artist  development  program Donda's House.  He was a  featured artist and vocal coach for the live DVD recording of the Higher Ground Gospel Choir in  Helsinki, Finland.  He has  toured  throughout  the US, South Africa, Italy, Germany,  the UK, and  Scandinavia.
Mr. Dunn has sung with the Chicago Symphony Chorus, Grant Park Symphony Chorus, and Blossom  Festival Chorus.  He was the chorus conductor for the Seven Last Words of the Unarmed by Joel  Thompson with The Adrian Dunn Singers at Chicago's Symphony Center and Wentz Hall in 2019.  He was the chorus master for Chicago Opera Theater's production of Freedom Ride in 2019 and  sang in the 2018 production of Moby Dick with COT.  He was tenor soloist for Handel's Messiah at  Rockefeller  Chapel  in  2018  and  was  the  tenor  soloist  for  Pucinni's  Messa  de  Gloria  with  the  Northwestern  University  Orchestra.  He  was  the  Tenor  soloist  of A  Child  of  our  Time with  the  University of Chicago Orchestra in 2019 and was guest artist in residence with the University of  Chicago Chorus. In 2019 he was the composer for the Lyric Unlimited Opera education program at the Lyric Opera of Chicago.  He sung the lead role in the 2017 Chicago premiere of the Paul  Laurence Dunbar opera The Poet and in 2016 served as the opera chorus master for the Midwest  premiere of  the opera Harriet Tubman – When I Crossed That Line  to Freedom with  the South  Shore Opera Company of Chicago.
As  an  active  professional  singer,  producer,  and  songwriter, Mr.  Dunn  has  had  the  privilege  of  working with gospel greats such as Tremaine Hawkins, Myron Butler, Melonie Daniels, Troy Bright,  Lamar Campbell, Damien Sneed, Walt Whitman and the Soul Children of Chicago, Smokie Norful,  Jonathan Nelson, and many more.  He was awarded the 2015 Album Producer of  the Year for AME Live featuring  the AME International Mass Choir from  the Rhythm of Gospel Awards.
Mr. Dunn's private voice students can be seen in Broadway  National  tours of  Lion  King, Ghost, the  Color  Purple, Hamilton,  Kinky  Boots,  Rent,  BET's  show  Sunday  Best,  Drury  Lane  Theater,  The  Paramount  Theater,  Black  Ensemble  Theater,  and  as  background vocalists for major record label artists on tour throughout the US and abroad. He is currently the Director of Choral Programs & voice faculty member  at The Colburn School.
2022 Guest Artist – Coty Raven Morris and Connor Koppin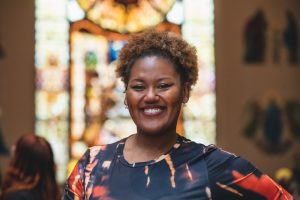 2022 Guest artists: Coty Raven Morris from Portland State University and Connor Koppin, composer/conductor based in Los Angeles.
Coty Raven Morris, founder of Being Human Together, authored a children's book, "What Do You Want to Be." Together, with Connor Koppin, we conceived of the idea to write, illustrate, compose, and perform Coty's original poem in the form of a children's book. The choral commission, "When I Grow Up," asks us about who we are, who we wish to become, and what can we do NOW? As a collective, the UIC Choirs and guest high school choirs will perform and record the commission at the end of the invitational.