Music
What's New in Jazz?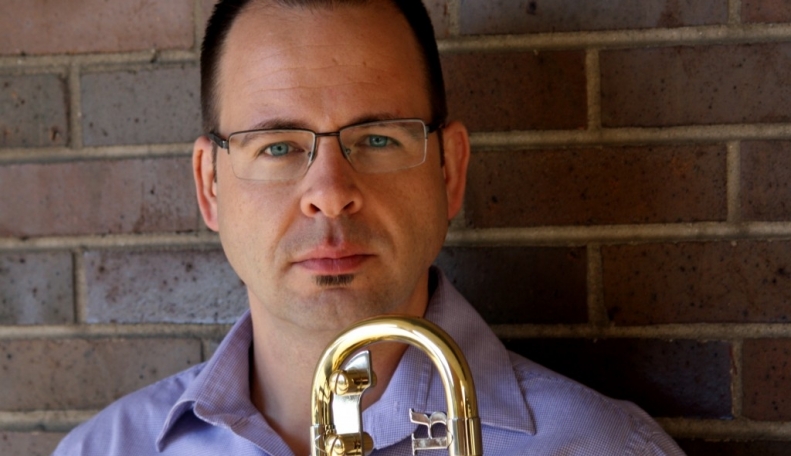 In his third year here at UIC and his first as Director of Jazz Studies, we caught up with faculty Andy Baker to talk about his plans for 2014–15.
What lies ahead for jazz at UIC?
We already have a strong base to build upon, thanks to the work of existing and past faculty. The program was established in 2009 and we've just graduated our first class so we'll be conducting a thorough curriculum review then concentrating on growing the program with expanded offerings and a larger capacity to accept new students.
What should we watching out for in the jazz program in the coming year?
The Jazz Ensemble will be releasing their second CD in the fall, Walkin' About. It's a mix of classic works by Thad Jones and Oliver Nelson as well as selections from Kenny Wheeler's "Sweet Time Suite" (with special guest Cheryl Wilson). We'll also be featuring another exciting guest artist at the 2015 Jazz Festival—trombonist Robin Eubanks, who is a truly vibrant and diverse performer.
You will also be acting as director for the UIC High School Jazz Camp this summer. What can students expect from the experience?
The camp is designed to give students an insight into the life of a jazz major here at UIC. The classes will be pitched at a level similar to that which they'd experience in college. We'll be focusing on small group improvisation and the technical and ensemble skills to support that, working directly with UIC faculty.
What personal highlights are on your performance calendar for 2014–15?
My highlights include the launch of my new big band—The New Standard Jazz Orchestra—debuting at the Jazz Showcase, June 9th. A second BakerzMillion album, Live at Andy's will be released in the fall or early spring. I'm busy with Fulcrum Point performing on the Rush Hour Concert Series and live on WFMT, as well as more performances of Jacob TV's The News in Chicago and New York in the coming year.