Music
Welcoming a New Head of Music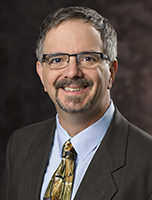 We're thrilled to introduce our new Head of Music, Dr. Louis Bergonzi. In addition to all the work he's going to be doing supporting and building UIC music programs, Dr Bergonzi will be conducting our growing orchestra.
"I am honored and excited to be at UIC. With students, alumni, and members of the faculty and administration, I look forward to imagining how music at UIC can best respond to the needs and talents of our students, contribute to the progressive mission of the university, and reflect the astounding vitality of Chicago's diverse musical communities."
Louis Bergonzi has served as the Daniel J. Perrino Chair in Music Education at the University of Illinois Urbana-Champaign, on the Music Education Faculty at the Eastman School of Music, and as a grade 4–12 string/orchestra teacher in Massachusetts. Dr. Bergonzi has been a guest conductor for honors youth orchestras throughout Asia, Australia, and North America, with arrangements for younger orchestra published by Kjos Publishers and Alfred Music Publishing.
Bergonzi was co-director/director of three symposia (2010, 2012, 2016) titled LGBT Studies and Music Education that focused own how LGBTQ issues operate within music education research, curriculum, and teacher preparation. His current research investigates gender and sexual diversity within music classrooms and professional development of pre- and in-service teachers around these issues.