Music
UIC Senior Morgan Pirtle Wins National Jazz Awards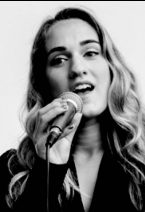 Each year, DownBeat magazine, one of the nation's premier jazz publications, singles out exemplary jazz students across the country for their Student Music Awards. The This year, DownBeat's award for outstanding performance in vocal music went to Morgan Pirtle, a senior in UIC's Jazz Studies program. Morgan also recently won the prestigious Chicago-based Luminarts Jazz Fellowship, after winning the People's Choice Award at the Luminarts 2018 Jazz Finals.
In May 2018, Morgan will graduate with honors from both the Jazz Studies program and the Honors College, which she attended on both merit and academic scholarship. At UIC, she has studied with vocalist Cheryl Wilson and previously has worked with artists such as Rufus Reid, Sheila Jordan, Jon Faddis, Jay Clayton, Dee Alexander, Bob Stoloff, Jennifer Barnes, and Greg Jasperse. She has performed all over Chicagoland, including such venues as Schubas, the Jazz Showcase, the Promontory, the Chicago Jazz Festival, the Hyde Park Jazz Festival, Chicago Summer Dance, and more.In addition to her career as a jazz vocalist, she currently works as the Membership, Volunteer, and Office Coordinator at the Jazz Institute of Chicago and is a co-founder of the Women's Jazz Leadership Initiative.
Morgan has been an outstanding contributor to jazz at UIC, and has performed both on- and off-campus with numerous jazz groups, including the Jazz Ensemble and Vocal Jazz Ensemble. As Chris Madsen, interim director of Jazz Studies, put it, "Morgan represents the kind of talent that is not commonly seen … not only is she gifted with an immense natural talent, but she possesses the work ethic and drive to consistently improve upon that talent. To top it off, she is a stellar student as well."
The School of Theatre and Music wishes Morgan a huge congratulations on her awards. We can't wait to see the great things that she'll be up to after graduation this May!