Theatre
Glengarry Glen Ross: Remix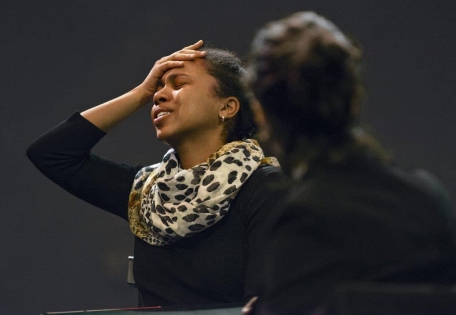 In 1984 David Mamet received the Pulitzer Prize for his play Glengarry Glen Ross, which chronicles two days in the working lives of four Chicago real estate agents trying to sell undesirable properties in economically challenging times. With their big mouths, even bigger schemes, seriously question seriously question seriously able ethics, and palpable desperation, the characters of Glengarry Glen Ross exchange pleas and slights in the rhythmic, dramatic language that has made Mamet famous. In February, Derrick Sanders, Assistant Professor of Theatre, directed a production on the UIC stage, casting women as the main characters and shifting the story from the early 1980s early 1980s early to 2007, just on the cusp of the great recession.
"People ask, why did I choose to direct the play this way?" Sanders said. "Well, for a long time I've wanted to set it in 2007, because the marketplace was similar if not worse than in the early 1980s. I grew up with two older sisters, and I wanted to celebrate how they maneuver through the world. One works for the FBI and another as a nurse, and I think they have a way of dealing with business, which is both elegant and sharp, and also biting, depending on what they want.
"I find that toughness to be a rarely accepted quality in women. It's something that I noticed in the recent election that I wanted to address. A lot of the things that I saw criticized in Hillary Clinton during her campaign would have been celebrated in a man: coldness, distance, a methodical way of dealing with things. Clinton dealt with all kinds of nonsense that toughened her up, and society wants to punish her for that. I correlated that with the fate of men just before things started to fall apart in the real estate market."
Sanders also likens his production to a Greek tragedy: "Corporate greed represents the fate of men, the fate you can't escape. The crash is going to happen, so the question is: who is going to take the brunt of the fate, who is going to be morally corrupt?
"Mamet writes in a specific way, and it's great for students. Rarely do they get to use language that has such rhythm to it, except in Shakespeare and a few other classic plays. Usually Glengarry Glen Ross has male actors bludgeoning you with Mamet's language. My work with women has led me to think that they might use the language in a slicker way. We're trying to find some of that finesse in the language." The winner of multiple Jeff Awards and a Black Excellence Award, Sanders was the founding artistic director of Congo Square Theatre Company.
The School of Theatre and Music presented Glengarry Glen Ross at the UIC Theatre, February 17–26. For information about upcoming School of Theatre and Music productions, please see the school's website.
Read the full CADA Spring 2017 newsletter online.