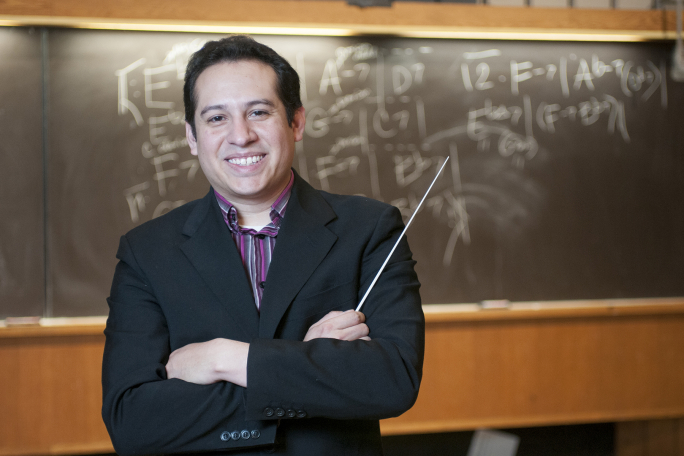 In February we announced the creation of the José Riojas Memorial Scholarship, established by Leticia L. Gonzalez to honor the memory of the late Professor José Oliver Riojas, former Director of Bands at UIC's College of Architecture, Design, and the Arts.
As alumni of UIC, Leticia and her late husband Michael (Mike) W. Gonzalez frequently attended School of Theatre and Music (STM) concerts and appreciated talking with Dr. Riojas as he greeted audience members in the lobby after performances. After José's passing in 2020, Leticia wished to honor Riojas as a passionate, gifted leader and educator, and to support instrumental music degree students who play in one of STM's bands or orchestras. It was her hope that recipients of this scholarship would be inspired by learning of José's admirable educational and professional accomplishments and encouraged to continue to change the world through music, as he strove to do.
"Know that you will impact so many people throughout your lifetime with your work. Remember that your work is not for you. It is for the world around you. Use your work to make the world around you the best that it can be." ~José Oliver Riojas
Inaugural José Riojas Memorial Scholarship recipients selected
STM is pleased to announce the inaugural recipients of the José Riojas Memorial Scholarship, to be awarded in the Fall 2021 semester: Juan Peinado and Julia Soulsby.
Juan Peinado is a junior tuba student from Chicago. He chose to study music at UIC to remain close to his friends and family, and to take advantage of the vibrant music scene in the city. When Juan is not practicing, he is a member of the UIC Band Staff, coordinating instrument distribution and other logistical needs. Juan plans on using this award to purchase his own instrument and intends to pursue a Master of Music degree after UIC.
"Dr. Riojas was someone I always looked up to. He gave me the opportunity to get into music in very special ways. Music and my education will always be something important to me. I want to keep learning and change the world with music, just like Dr. Riojas did."
Julia Soulsby is a freshman euphonium student from Chicago. After working directly with UIC music faculty during the Ravinia Jazz Scholars program her senior year of high school, Julia learned how much she could do with a degree in music performance. She is dedicated to inspiring other young musicians and giving back to her own community and was drawn to UIC because of its diverse and vibrant student population.
Julia plans to use this award to continue her music studies, inspiring other musicians to follow in Dr. Riojas' footsteps. She dreams of playing in a Broadway pit orchestra and starting her own brass quintet or brass band. Eventually, she wants to start an organization to make private lessons and playing in music ensembles accessible to underrepresented communities in Chicago.
"Music should be diverse and inclusive, and I want to use my platform as a performer to inspire the next generation of musicians who don't quite fit the image people expect a musician to have. I want to ensure that my music is accessible to everyone."
A member of the UIC Band Staff, Julia is also an ensemble member in the Naperville Winds Band, DePaul University New Horizons jazz band and concert band, and the International Women's Brass Conference Mentorship Program. She is passionate about engaging in music from underrepresented composers, including queer composers and composers of color.
Support the José Riojas Memorial Scholarship
To continue to support students like Juan and Julia, we hope you will consider making a gift to the José Riojas Memorial Scholarship. Please visit http://give.uic.edu and in the "Other" section, type in "José Riojas Memorial Scholarship", or use the fund number 12776531. Your generosity will amplify Dr. Riojas' legacy at UIC and allow students to change the world through music.