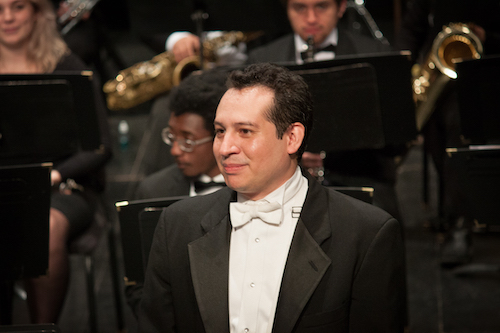 José Riojas Memorial Scholarship
We are happy to announce the new José Riojas Memorial Scholarship, established by Leticia L. Gonzalez to help make education more affordable for University of Illinois Chicago music degree students who play in one of the School of Theatre and Music (STM) bands or orchestras, and to honor the memory of Professor José Oliver Riojas.
In Memory of José Oliver Riojas
During the summer of 2020, the STM community was saddened to announce the passing of former director of bands José Oliver Riojas. Assistant Professor Riojas joined the STM faculty in August of 2013 and served as director of bands for seven years.

Under his dedicated and passionate direction, the UIC Band program grew artistically, in the number of ensembles offered, and in the number of students engaged from across the university. In addition, Professor Riojas built connections with the broader band community by regularly commissioning new music for UIC ensembles and bringing extraordinary guest composers to campus.
Music became a driving force in José's life at a young age. He began playing the saxophone at age 12 and went on to earn a bachelor's degree in music education from the University of Texas at San Antonio. At the University of Tennessee, he took a master's in wind conducting, with a secondary concentration in saxophone performance, then enrolled in doctoral study in wind conducting, with a minor in music theory, at the University of Georgia. He arranged many works for saxophone and for the UIC Wind Ensemble. One of his most widely performed pieces, Veracruz, is a collection of Mexican folk songs.
Professor Riojas aimed to change the world through music and had great influence on the lives of his students. He made the UIC band program an academic home away from home for many, and the class of 2018 selected him for the Silver Circle Award for Teaching Excellence. In an interview, Professor Riojas was asked what advice he would offer students. He urged them: "Remember that good work is always rewarded. It may take time.... You will have hardships. But good and persistent work will have its payoff. And you will find your success. Know that you will impact so many people throughout your lifetime with your work. And finally, remember that your work is not for you. It is for the world around you. Use your work to make the world around you the best that it can be."

In Gratitude to Donor Leticia L. Gonzalez
Leticia L. Gonzalez, the child of a Mexican immigrant father and a Tejana mother, has always loved music. During her career as an educator, she observed how music education motivated her middle school students and made a profound impact on their trajectories.
As an alumna of UIC, Leticia frequently enjoyed attending concerts hosted by the UIC School of Theatre and Music including memorable performances featuring Dr. Riojas and his students. She has established this scholarship to honor a passionate, gifted leader and educator and hopes that all students are encouraged to learn of José's educational and professional accomplishments.
Support the José Oliver Riojas Scholarship

To make a gift to the José Oliver Riojas Scholarship, please visit http://give.uic.edu/ and in the "Other" section, type in José Riojas Memorial Scholarship Fund or use the fund number 12776531.